Exploring Portland during a weekend trip, we came across these tree "price tags" along the South Park Blocks near PSU. A phenomenal public outreach campaign, they also reminded us of the multiple benefits of the urban forest that continue to be uncovered by researchers.
For example, DesignBuild Source reminds us about the importance of software like i-Tree in quantifying the value of our urban forest canopy (and perhaps more importantly, provides the nifty graphic below). It also suggests that Portland may have been low-balling their trees' value.
ACTrees runs down the latest research about how the urban forest affects carbon storage and sequestration, which refines previous research papers. The research found:
Total tree carbon storage in U.S. urban areas (c. 2005) is estimated at 643 million tonnes ($50.5 billion value; 95% CI = 597 million and 690 million tonnes) and annual sequestration is estimated at 25.6 million tonnes ($2.0 billion value; 95% CI = 23.7 million to 27.4 million tonnes).
Download the full research paper here.
"Perhaps we should start thinking of trees as part of our public-health infrastructure," says this fascinating article from Scientific American about how the presence of trees in your neighborhood serves as a predictor of your public health. Studying an area of Michigan where there was a large die off of trees due to the emerald ash borer, the researchers found:
"According to their mathematical model, the presence of the borer, and the subsequent loss of trees, was associated with 6.8 additional deaths per year from respiratory causes and 16.7 additional deaths per year from cardiovascular causes per 100,000 adults. That's more than 21,000 deaths in total."
Fast Company brings us the story of South African photographer Dillon Marsh who studies the "peculiar nature" of cell phone towers dotting the urban landscape, disguised as trees. Some examples of his work is below but be sure to also check out his website.
Interested in learning more about value of trees and green infrastructure in the urban environment? APA has a new publication, Green Infrastructure: A Landscape Approach, that gives all of the latest, greatest research. ASLA interviews the author.
Articles and images this week remind us of one thing: climate change is real, and it is happening now. First there was the confirmation that 2012 was, indeed, the hottest year on record for the continental US.  (Of course, The Onion had the most sardonic headline). But, the seriousness of climate change was brought home by several images out of Australia, where a massive, extreme heat wave has caused the Australian Bureau of Meteorology to adjust the color spectrum on their temperature map, adding magenta at the top representing 129 degrees Farenheit.
The heat wave has contributed to scorching forest fires have driven families into the water seeking refuge (Image via AP):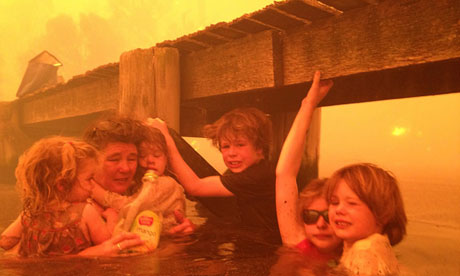 And soil into the sea:
Fortunately, this week there has also been a lot of hope.
UW's own Dr. Howard Frumpkin offered an inspiring opinion piece in The Seattle Times, a new report from the National Academies recognizes climate disturbance as a cause for more extreme disasters and advocates for a softer approach to risk-mitigating infrastructure, and, in real, concrete action, the City of Seattle has become the first City in the country to pledge divestment from fossil fuel investments as part of 350.org's Do The Math campaign. And the City has a new climate mitigation and adaptation blueprint, as part of the Green Ribbon Commission's, which our own Brice Maryman served on, Climate Action Plan.
One of the adaptation strategies the City recommends includes more adoption of low impact development as part of a comprehensive suite of adaptation strategies. Fortunately, the newest edition of the Low Impact Development Technical Guidance Manual for Puget Sound was just released to help Seattle and other Puget Sound area cities implement LID strategies. Our own Kathy Gwilym served on the Technical Advisory Committee, providing particular expertise on porous/pervious pavements and bioretention facilities. And to fund green infrastructure, the NRDC suggests that this is going to be a big year for sustainable infrastructure financing.
All of this reminds us that, now more than ever, we need people taking ideas and turning them into a more hopeful future. It's hard work, as this commiserating presentation from Rilla Alexander attests, but "without the doing, the dreaming is useless."