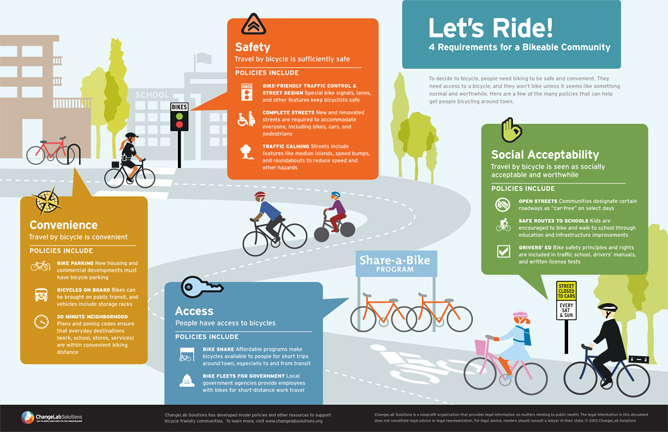 What makes a bikeable community? Is it bikeable for some, or bikeable for all? What are the structures--social, infrastructural, economic--that promote cycling?
Safety First
Thank goodness for New York. Mayor Bloomberg and Janette Sadik-Kahn have used their outsized media-shed to demonstrate to Americans around the country the profound influence cities can have in making great, liveable, bikeable communities. Through strategic interventions, data-backed policies and a fearless implementation approach, they have transformed New York's infrastructure. In doing so, they have also provided a powerful lessons for other cities looking to create safe cycling infrastructure. Covering a newly released report regarding the impact of NYC's new cycletracks, Portland-based Elly Blue writes:
True to form, this bike infrastructure did more than make cycling safer: The study found a 35% decrease in traffic crash related injuries to all street users on the 8th Ave path, and a whopping 58% on its 9th Ave counterpart.
What's so exciting about this data is that it has a real impact on opinion leaders and skeptics around the country. For example, one of the Seattle Times' editorial board writers, Jonathan Martin, recently penned an opinion piece advocating for the implementation of cycletracks in various locations throughout the city.
If You Build It...
Cities are recognizing the many benefits of cycling and are at various stages of transforming their public works approaches to support cycling infrastructure. But does new infrastructure result in new riders? Yes according to a new report released by the League of American Bicyclists:
From 2000 to 2011, the bicycle commuting rate has risen 80% in the largest Bicycle Friendly Communities — far above the average growth of 47% nationwide and more than double the rate of 32% in the cities not designated as bicycle-friendly.

In some Bicycle Friendly Communities, bicycle commuting rates have skyrocketed by more than 400% since 1990, including cities as diverse as Portland, Ore., and Lexington, Ky. Meanwhile, cities like Washington, D.C., Philadelphia, and Denver have more than doubled their bike commuter share since 2000.
All About the Benjamins
In Elly's blog post from above, she also discusses the economic impacts of installing the cycletracks, and notes some astonishing findings.
...retail sales income in locally-based businesses along the 9th Ave lane went up as much as 50%. Yep, half again what they were before 2007. And this was during a recession. In the same period, borough-wide retail sales only increased 3%.
Those numbers are remarkable, but they're not necessarily uncommon. Momentum Mag reports on a group of community activists in Memphis who looked to bikes as they searched for ways to transform their deteriorating neighborhood.
They painted temporary bike lanes and crosswalks and invited the community to "A New Face for an Old Broad," a celebration, complete with live music, street vendors and a kids' bike parade down the freshly striped cycle track.

"Until then, the area had been doing art walks once a year and, at best, those were bringing in 1,000 people," Brown said. "Our goal for this day-and-a-half event, where the street itself would be a sort of theatrical performance, was maybe 5,000 people. We had 15,000 show up. The energy level was incredible. It was a huge tipping point for us – it changed the trajectory of the revitalization efforts."

The energy didn't wane once the event was over and bicyclists started taking advantage of the temporary lanes. Since then, the promise of permanent facilities has drawn more than $6 million in private investment. More than 15 new businesses have opened and nearly 30 properties have been renovated. Traffic has slowed, new customers are arriving on two wheels and, suddenly the rock-bottom neighborhood is one of the hottest spots in town.
Covering another economic angle, Oregon recently released a report about the economic impact of cycling on its tourism industry. Fast Company picked up the story, noting:
The Oregon study, by Dean Runyan Associates, measures the impact of bike tourism. Based on a survey of about 5,000 people, it finds that vacationing bikers spent $400 million last year, or $1.2 million a day. Of that, $175 million went on accommodation and food, $54 million on groceries, and $28 million on bike repairs, clothing, and gear. Bike tourism also secured 4,600 jobs, the report says, and $18 million in tax receipts.
A Culture of Cycle-Acceptance
As important as safety and economics are, so too is a culture of cycling. And on that front, here's the good news: we don't live in Saudi Arabia where the kingdom is just now set to end its ban on women cyclists.
At the same time, we should be open to the possibility that many of our institutional structures and programs may have hidden biases against certain demographics. For example, a recent report from the American Journal of Public Health:
"finds that highly influential transportation engineers relied on shoddy research to defend policies that discourage the development of protected bike lanes in the U.S. In their paper, the researchers point out that male-dominated engineering panels have repeatedly torpedoed street designs that have greater appeal to female cyclists," according to Streetsblog.
Kids, too, are impacted by this lack of separated facility. As Susie Strachan, a mother quoted in a recent Guardian article, observes when asked whether she'd let her seven year old cycle to school, ""It's too dangerous at this age. I don't know anyone who does it but I think a lot of us would consider it if there were segregated bike lanes."
Henry Grabar, writing at Atlantic Cities, argues that this separated infrastructure may also re-frame the enforcement debate. In his thought-provoking piece he argues that we should never fine cyclists for traffic infractions, asking:
Why should people riding 20-pound bicycles obey laws designed to regulate the conduct of 4,000-pound cars, to say nothing of accepting the same penalties? In terms of the damage we can cause and sustain in an accident, cyclists have more in common with pedestrians than cars and should be treated accordingly.
He continues:
It will be separated bike lanes, not the threat of fines, that reduce our incentive to jump ahead of fast-moving traffic, hop up onto sidewalks, and pedal up one-way streets. That infrastructure will also provide structural enforcement of group behavior (the first people in line decide how the rest will act) and the social pressure of group riding, which veers towards the sensible and the safe. Among the cyclists I join each morning on my way to work, there is a palpable sense of group-regulated conduct. We all make the same decisions at each light. Some of them are illegal, but all of them are safe.
The Ideal Cyclists we all strive to be
Finally, for some tongue-in-cheek fun, check out the Greater Greater Washington description of the Ideal Cyclist. It is Swiftian perfection. An excerpt:
The Ideal Cyclist stops at all traffic lights and all stop signs. He stops at all lights period, red or otherwise. You can render the Ideal Cyclist immobile with a flashlight. An octagon of any sort is paralytic.