Several of our staff members have tumblelogs (here here here), but we wanted to highlight a new Tumblr find that we think is fantastic: Parks of Seattle. The brainchild of Dave Battjes, a Seattle-based graphic designer, the site consists of a custom-made logo for each one of the more than 400 Seattle parks. Some of our favorites include:
Speaking of parks's role in the City, we were alarmed then charmed by a short article on Atlantic Cities about the disparities not in the quantities of parks, but in the qualities. Lower income neighborhoods, for example, were less likely to have nice landscaping, trails and playgrounds, resulting in the author's simple conclusion: "These findings also suggest one simple strategy (among many needed) to address health disparities in low-income communities in any city: Make sure public parks seem like places a 7-year-old would actually want to spend the day."  Good advice for city-making all around.
One of the ways that we make cities safer for kids, of course, is to make sure that pedestrians come first. That's just what Chicago plans to do as part of their exciting Complete Streets Manual makeover. As part of their design process, the City is taking on one of the age-old challenges of turning the big ship of city government: how do you institutionalize a new mode of thinking?
For the past decade or so, forward-thinking cities have hired pedestrian or bicycle "coordinators" to advocate for amenities like bike lanes and better crosswalks. But the resulting strategy can be scattershot; if a given project manager happens to know the ped guy, maybe he'll be wrangled for input. The big idea now is to integrate the perspective of all modes of transportation into everything the department does.

....

"What we're saying is this is a complex environment that we live in in a city," [Chicago's Transportation Director Gabe] Klein says, "and the national and state standards that we've been using for a long time aren't necessarily complex enough to meet the needs of our constituents."

This new 138-page document is about breaking down that complexity for all the people in city government who will be charged with touching city streets and public spaces. But it's also intended for consultants and contractors who want to work with Chicago going forward. "It indoctrinates them," Klein says, "to how we want to look at our city."
Chicago's efforts are great, but will we ever see England's Play Streets again? (Hat tip to @grescoe).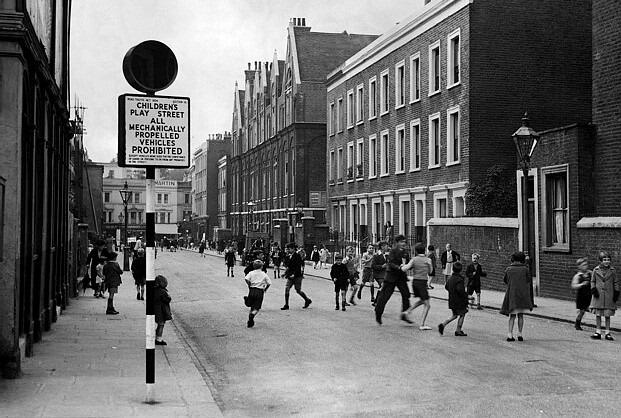 Finally, we've been trying to find a spot to highlight Gordon Price's brilliant deconstruction of Las Vegas' pedestrian realm. Failing to find an elegant way to slide it in, we will just say it's a great piece both in the original blog or as one of his priceless PriceTags PDFs.